Home
» Blow Molding Service
Blow Molding Service
Plastic blow molding uses the air pressure to blow the melted plastic blanks into the mold cavity to form a hollow featured part. The wall thickness for blow molding process is normally thin. Compare with injection molding process, the cost for blow molding is relatively low and better molding performance, so it can make the items in more complex shapes. The main products made by blow molding are including: Tool Box, Christmas Toys, Packing Bottles (Shampoo Bottle, Washing-up Liquid Bottle, Medical Bottle, Sport Drinking Bottle, Tissue Container, etc.), Sports Goods, Industrial Technology Accessories (such like Automotive Components, Automotive Radiator, Steam Tank and Engineering Water Tank), Decorative Lighting, and so on. Maxtech has imported high precision vacuum blow molding machines, so we can reach a maximum weight of 38kg. Common plastic materials include PE, PP, PVC, PC, PS, PA, PETG, EVA, PAN, PPE, PPO, ABS, POM, TRE and TRV.
Production Equipment List:
| | |
| --- | --- |
| Full automatic blow molding machine with SJ1030 model | 2 sets |
| CNC vacuum blow molding machine | 2 sets |
| Double-layer pull rod blow molding machine | 2 sets |
| Hydraulic blow molding machine | 2 sets |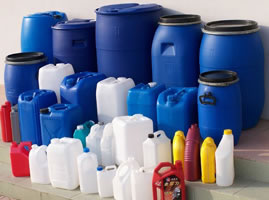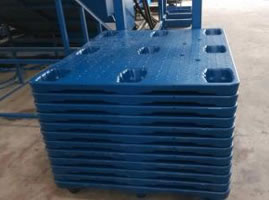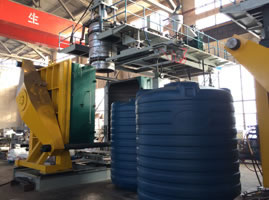 Product Range: 1200mm*1600mm*500mm
Maximum Forming Weight: 38kg
Surface Treatment: Color can be custom made, please let us know the Pantone color code before production.
Quality Control:
Quality inspection will be performed strictly under ISO9001:2008 management standard.
Inspection tools are including: Projector, CMM, Chromatographic Instrument, Abrasion Tester.
Injection Blow Molding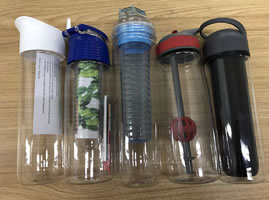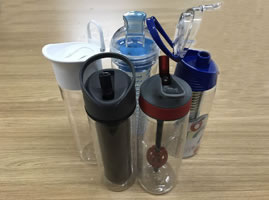 There are three steps of injection blow molded process, which are injection, blowing and finally ejection. The most common items made by injection blow molding process include water bottles, jars and plastic containers. Major features of injection blow molding process are precision dimensions, no flashes, and products are very nice-looking. This process has been widely used for making containers and bottles all over the world. Applications include household uses, automotive industry, food industry, as well as pharmaceutical industry.
There are mainly two different processes in injection blow molding technique. One is single-stage process and the other one is two-stage process. One single-stage process is suitable for making low volume orders. There is no preform so making non-round shape items the wall thickness can be even. While the two-stage process is more suitable for making large order quantities with cylindrical or oval shapes. The limitation on bottle design is very little. There is preform process so that a third party is allowed to complete the production.
Most common materials used in injection blow molded process are including Low Density Polyethylene (LDPE, LLDPE), High Density Polyethylene (HDPE), Polypropylene (PP), Polyethylene - Terephthalate (PET), and Polyvinyl Chloride (PVC).
Bottles made by injection blow molding have thick walls and the wall-thickness is quite even. The parting lines are almost invisible and the bottle neck dimensions are very precision. Advantages of injection blow molding include low scrap rate, consistent weight, dimensions and wall-thickness, cost effective for high volume productions, and can make items in very small sizes.
Blow Molding vs Injection Molding:
The major differences between these two processes are the shape feature and the wall thickness.
Items made by blow molded process is hollow and items made by injection molding is solid.
In addition, wall thickness made by injection molding is fixed by the injection mold, it is not flexible. However, wall thickness made by blow molding can vary in places since it is determined by how much the material been stretched during the blowing process.