Home
» Plastic Thermoforming & Vacuum Forming Service
Plastic Thermoforming & Vacuum Forming Service
The thermoforming uses a higher pressure than vacuum forming process, and it is more efficient in the production cycle time. It can produces thousands of items per hour. However, only thermoplastic material sheets can be used in this process. Plastic thermoforming process can make both thin-wall items and thick-wall items. There are two types of plastic thermoforming, one is thin gauge and the other one is thick gauge. Normally when sheet thickness is less than 1.5mm, it will use thin gauge thermoforming. Common products include the disposal items such like cups, trays, containers and medical disposal items. And when sheet thickness is thicker than 3mm, then it will use thick gauge thermoforming. Items made by thick gauge thermoforming are strong and rigid, widely used in automotive industry as vehicle doors, dash boards, bumpers, and other structural components like heavy loading enclosures, refrigerators, electronic equipment, handling tools, show cases, and so on. There items will be used permanently, while thin gauge thermoformed products more likely will be used only once.
Production Equipment List:
| | |
| --- | --- |
| Full automatic vacuum forming machine | 2 sets |
| Semi automatic thick panel vacuum forming machine | 2 sets |
| Full automatic high speed vacuum forming machine | 2 sets |
Plastic Thermoforming for Thin Panel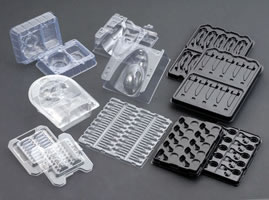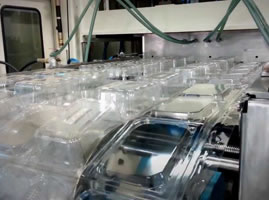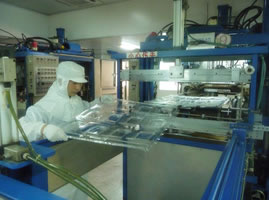 Plastic Vacuum Forming for Thick Panel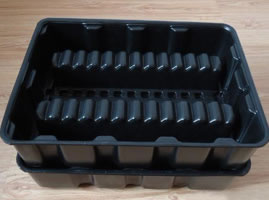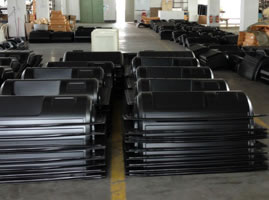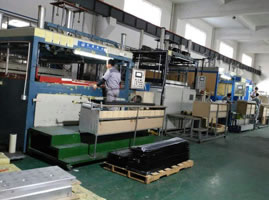 Product Range:
Thin Panel: 0.1mm ~ 1.2mm thickness
Thick Panel: 1.5mm ~ 25mm thickness
Maximum Forming Area: 1600mm * 2350mm
Surface Treatment: Color can be custom made, please let us know the Pantone color code before production.
Quality Control:
Quality inspection will be performed strictly under ISO9001:2008 management standard.
Inspection tools are including: Projector, CMM, Chromatographic Instrument, Abrasion Tester.
Plastic Vacuum Forming
Vacuum forming is a process that firstly heats a plastic sheet material and then sucks the soft material sheet into the mold. Finally, the plastic sheet been ejected from the mold. It has higher production speed and the materials for vacuum formed are normally thermoplastics, such like ABS, PC, HDPE, HIPS, PVC and Acrylic. Common products made by vacuum forming include blister packages, plastic trays and containers, lamp shells, food packages, and so on.
After a item been vacuum formed, normally a secondary process is needed to provide the final finished product. Such secondary processes mostly cutting and drilling. Vacuum forming cannot make the holes or cutouts directly, so these features need to be done afterwards.